Who Is Tim Roberts
Timothy Patrick Roberts was your average 21 year old who enjoyed being with this friends, fishing, camping, going to school and helping to coach the N.A. High School track team...until the summer of 2004. After experiencing pain and significant weight loss, Tim was diagnosed with esophageal cancer. After battling through many rounds of chemotherapy and several major surgeries, Tim succumbed to this disease a year later on August 25, 2005.
Tim was a young man of heroic courage, grace and strength. From the moment he heard the word "cancer", Tim was determined to do whatever was needed in order to beat this disease. He never felt sorry for himself but instead focused all of his energy on getting well and maintaining a positive attitude. Instead of being angry, he embraced the love and support of all those around him including friends, family and medical staff. It was Tim who kept everyone around him hopeful and upbeat, quickly becoming everyone's favorite patient. He was polite and a true gentleman, even when his days were hard.
Timothy P. Roberts was a person deeply admired by those in his life. He was a terrific friend who could always be counted on for advice and inspiration, especially during his battle with cancer. He was a quiet person who lived life to the fullest. He loved the outdoors, especially fishing and camping, inspiring him to major in fisheries and wildlife in college. He was known in his fishing circle as "The Bassman". He loved the Boston sports teams and was an avid Dave Matthews Band fan, never missing a concert when he was in the area. Tim also possessed a sense of humor that was like no other. Dry, quick and often unexpected, Tim was master of the punch line and "the look"!
During Tim's illness, his family pursued having his dream of meeting Dave Matthews and Jason Varitek realized. Much to their disappointment, most organizations are able to grant wishes/dreams only for children under the age of 18. Tim felt strongly that young adults had wishes and desires and also deserved to have some fun in the face of a terrible illness. His goal was to take on this challenge when he got well. Sadly, he did not live to see this happen. His friends and family have taken on the challenge of seeing that Tim's final wish is realized through the Timothy P. Roberts "Reeling In a Dream" Foundation. Because of Tim's compassion for others, many young adults at the Dana-Farber Cancer Institute, diagnosed with cancer, have been granted wishes in Tim's name!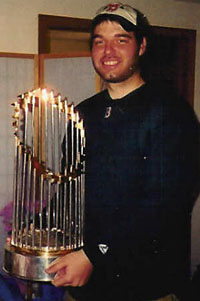 We thank everyone who has been involved in Tim's dream. The Timothy P Roberts "Reeling in a Dream" Foundation relies strictly on local fundraising and donations to meet its needs. It is overseen by the Timothy Roberts Advisory Committee (TRAC) made up of a representation of Tim's family and friends. All fundraising efforts must be approved by TRAC. Protecting the integrity of Tim's name and his foundation is of the utmost priority with TRAC. The Bassman's Ball, The "Reeling In A Dream" Fishing Derby and the Tourney for Tim/Rockin for Roberts would not be successful without all of our local supporters, and for that, we are truly appreciative. We hope you will consider making a donation in memory of a loved one, a birthday or other special occasion. It will certainly brighten the day of a young adult cancer patient.
Thank you from all those you knew and loved Tim.
Make a Donation
100% goes to the fund for patient use!